Turn every cup into an experience
Mobile Coffee Bars, Bikes & Vans
Mobile Coffee for your event
Energise your marketing by hiring one of our coffee vans, bikes or bars. Despite their tiny footprint, all our vehicles pack a punch. Whether it's indoors or outdoors, our machines are designed to operate on a single domestic plug or can run on a mix of electricity and gas to serve superior coffees for as long as you need us.
We feel that our baristas are like part of your team, happy to serve to your customers, clients or even staff members. For this reason, when you hire a coffee bar, van or bike, we ensure our baristas are fully trained and prepared to serve excellent quality coffee with a smile.
Fitted with a 2 group coffee machine, our Piaggio ape coffee vans are some of the best available. Capable of running on gas or electricity, we can serve coffees all day long both indoors and outdoors, no matter what kind of event you're hosting.
We've pedalled our vintage-style coffee bikes across the UK and in Europe. Whether you have a conference in London or an exhibition in Spain, our bikes can serve espressos to satisfy every guest. Suitable for indoor and outdoor events.
Flexible and fashionable, our coffee bar fold flat for access so we can fit into any space you give us. Our coffee bars are hired as a solo bar, with corner units or as a large double bar. Customise them to match your branding for extra impact.
Mobile Coffee Personalised to Suit You
Our vehicles, cups and uniforms come unbranded so that you can make your own mark on them. We believe that, as part of your event, our services should advance your marketing goals. Hiring our coffee vans grants you up to 10 panel branding so each bar can look like it's always been yours.
We have taken our bikes and vans all over the UK and Europe, serving the finest coffee at exhibitions, product launches, conventions and office events. Does your film or TV crew have a caffeine craving? We can also serve artisanal coffee and craft services at private events for that much needed pick me up.
Freshly made coffee is a great way to get you noticed and make your marketing campaign memorable. Our mobile coffee services can draw in crowds and improve your engagement with valuable potential customers and clients.
Hiring a mobile coffee van or bike for your next event will give you maximum exposure and help keep your brand in your customer's hand.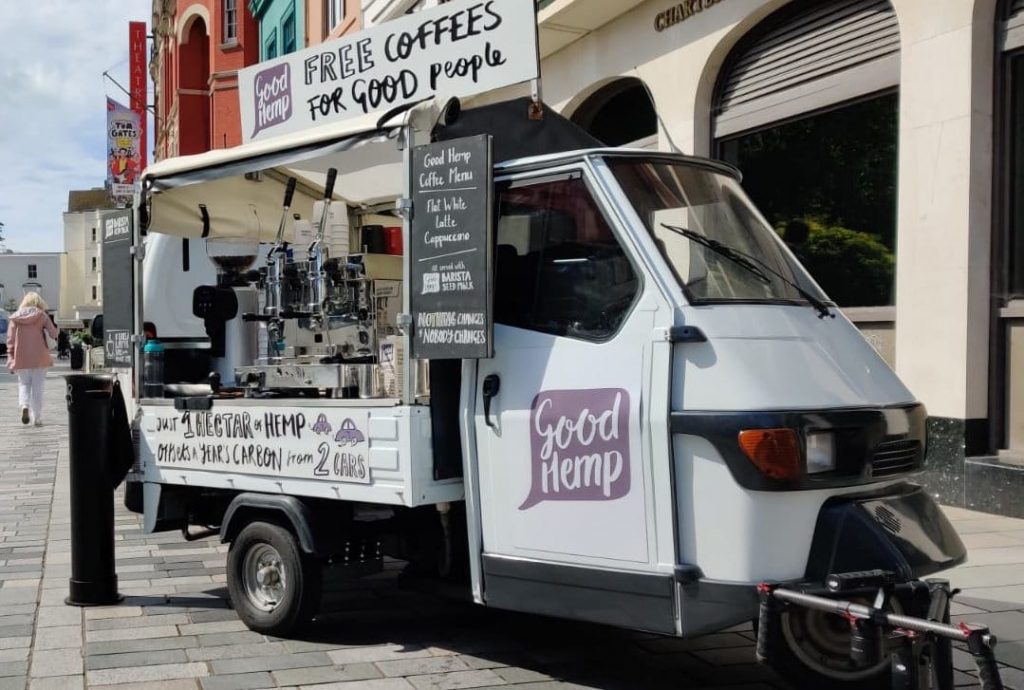 Need a Showstopping Centerpiece?
Our team can help you stand out at your next exhibition, conference, product launch or private event with the best quality fresh coffee.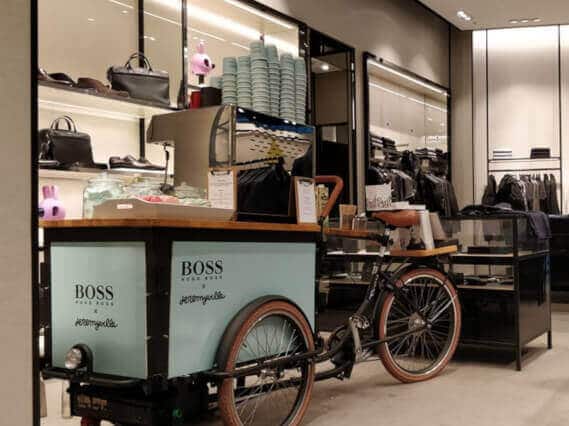 Coffee Van Dimensions:
Length: 2.6m
Width: 1.3m
Coffee Bike Dimensions:
2 units: 2.2m x 0.9m
Standard Bar Dimensions:
4 units: 1.5m x 0.75m
Small Bar Dimensions:
1 unit: 1m x 0.75m
Large Bar Dimensions:
2 units: 2.5m x 0.75m
Contact us to learn how The Juice Guru can help you with your next event.
Ideal for Exhibitions, Conferences & Corporate Events
We'd love to hear from you
The Juice Guru customise each of our events exactly to our clients requirements. For a quote from us simply fill out the form with your requirements for your event and we will contact you quickly.
We have taken our mobile smoothie bars and bikes around the UK to serve guests tasty smoothies at exhibitions, product launches and office celebrations.

From London to Edinburgh, our team are on-hand to help at any kind of event you need us for.