Mobile Coffee Bar Hire
For Events
stand out service every time 
portable, Mobile coffee bars
Our mobile coffee bars are modular, coming in a range of sizes and fitting together for a fully flexible offering. Whatever space you're working with, we can serve premium coffees to your guests all day long.
All our bars have customisable branding offerings, meaning you can stand out and make an impact at any conference, exhibition or product launch.
Mobile Coffee Bars For Any Event
We've created marketing campaigns for some of the biggest global brands, welcoming guests and attendees and encouraging engagement with your staff and branding. Our trained barista are dedicated to customer service excellence and always strive to give each customer the perfect cup of coffee to give them the best interaction with your business.
Compact, Flexible Coffee Bars
We have 1m and 2.5m bars and corner units that all fit together to offer you a completely flexible solution to fit your size and space needs. The bars are collapsible for easy transportation and fit in most lifts. Whether you need a full double length bar or a compact single unit, our coffee machines can brew almost anywhere!
We offer front and side panel customisation so you can display your logo or images of your choice throughout your event. We can also create branded cups and uniforms to share your message with customers in as many ways as possible. When we're wearing your brand, we act as part of your team to give them a warm welcome and introduce them to your business.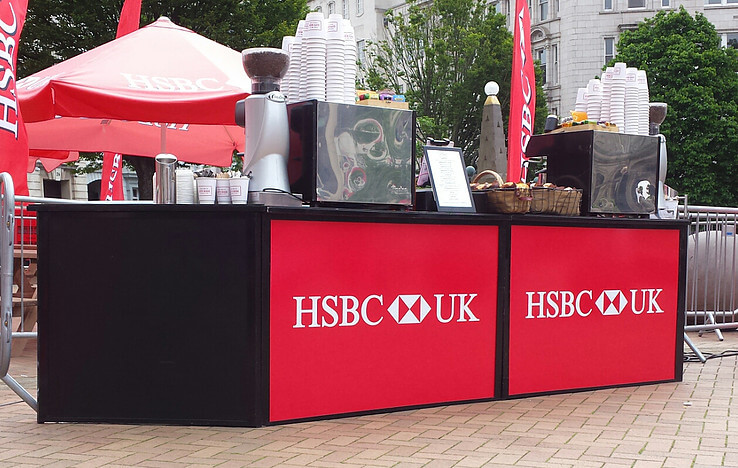 enjoy top-quality service and unique advertising at your next event
Sleek & Attractive Designs
If you choose not to brand our bars, we have versatile styles including sleek black and rustic wood. Even without your personalised images, our coffee bars make an impact while still maintaining professionalism and quality.
We roast our beans fresh on the day, allowing us to serve up the best quality coffee we possibly can. Your customers, guests and attendees will appreciate the craftsmanship and taste of our coffees whether it's an exhibition booth or a product launch.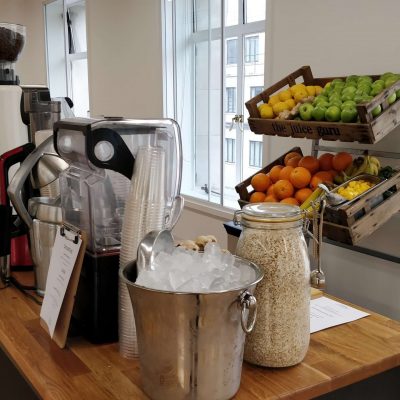 Contact The Juice Guru to arrange a mobile coffee bar for your event
We serve at corporate and private events
Mobile Coffee Hire Options
We have a fleet of mobile coffee vans, bikes and bars so, no matter what space you're working with or what crowd you're catering for, we have an option that will draw in customers and deliver on your marketing goals.
book a bar for your next event
At every event, we strive to deliver excellent service to you and your customers. Simply fill out the form with your requirements and some information about the event and we will be in touch to organise your next campaign.
We've set up mobile bars and driven coffee vans across the UK and Europe, from Edinburgh to Paris, bringing quality coffees to all events.
Whether it's an exhibition or a product launch, we can help you get the most out of your marketing.